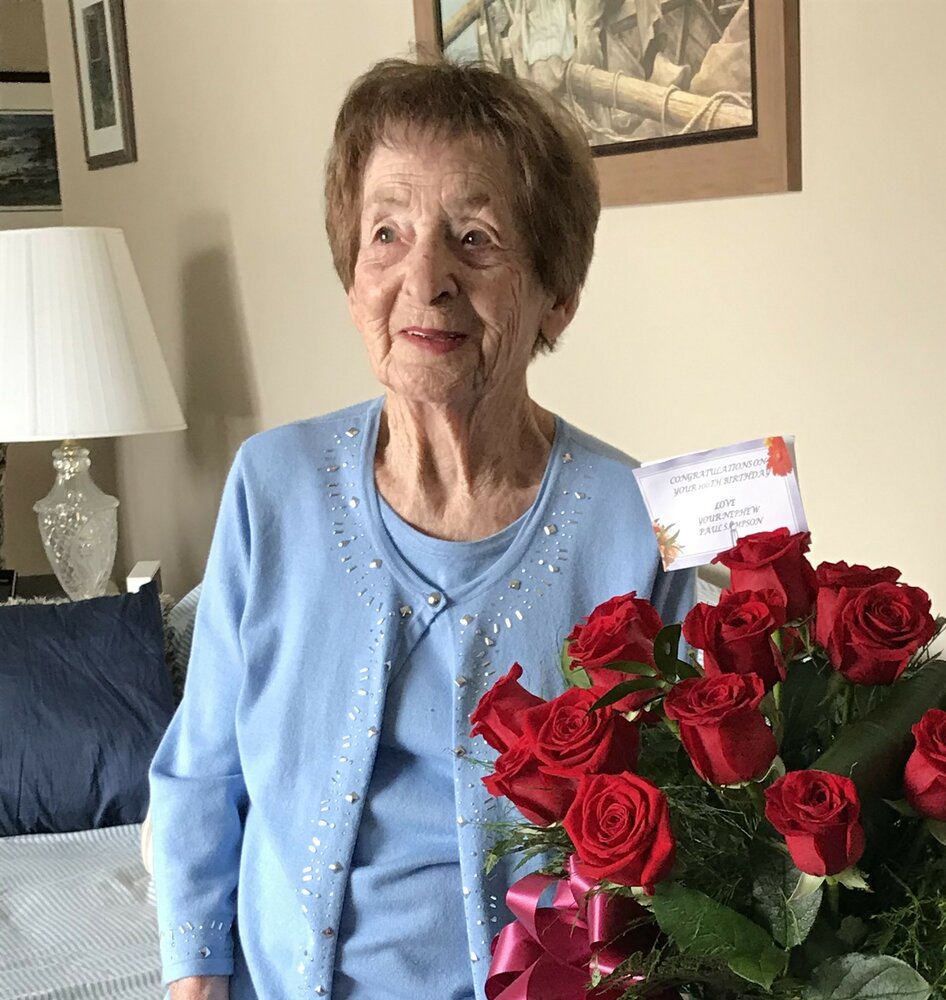 Obituary of Rose Ann Emond
Rose Ann Emond (Sampson) Glace Bay, N.S. Rosie (aka Super Nana), after 102 1/2 active years on this planet, had left us on Saturday, September 30, 2023, to fly with the angels. Rosie was the proud daughter of the late Charles and Sarah (O'Donnell) Sampson from the Sterling area of Glace Bay. Throughout her life, Rosie worked hard, loved unconditionally and went the extra mile to celebrate her family and friends- baking their favorite cake on birthdays for many or celebrating each of her grandchildren, great grandchildren, nieces and nephews in a way special to each of them. Of all of her blessings, Rosie was most proud of her daughter Yvonne and husband Ross MacGregor, their three children-Ross (wife Elaina and son Matthew), Kenneth (wife Leona and children Austin and Kensley) and Lori (partner Wess and son Ethan). Many years ago, Rosie had the great privilege of becoming a part of the household of Clare and the late Dr. J.O. McNeil of Glace Bay where she remained for over fifty years. A deep and lasting friendship was formed which stood the test of time. The McNeil children Sharon (Gilles) Chatelain, Ian, Kevin (Peggy), Paul (Diane), and John Osler (Karen) grew up with Rosie's love and encouragement. She was often referred to as their "second" mother. In return they (and their children) gave her a lifetime of great respect and love. Besides her daughter, son-in-law, children and grandchildren, Rosie is survived by brothers Earl and Clarence and a sister Ruby Deveaux. Along with her parents Rosie was predeceased by husband Rene, siblings Robert and Joseph in infancy, Charlie, Gerald, Mary Micossi, Bob, Patrick, Stanford, Wilma Broderick, Sarah (Sally) and Elizabeth (Betty) Sampson. Funeral arrangements have been entrusted to T.J Tracey Funeral Home, 370 Reserve St., Glace Bay, NS. 902-849-4199. There will be no visitation. A mass of Christian burial will be held on Thursday, October 5, 2023, at 10 a.m., in St. Anne's Parish, with Fr. Norman MacPhee presiding, and interment will follow in St. Anne's Cemetery, Glace Bay. Those wishing to honor Rosie's memory may donate to Glace Bay Food Bank, Every Women's Centre, Christmas Adopt-A-Family Program, or a charity of choice. The family would like to thank Dr. Michael Gallivan for his years of care and compassion for Rosie. Also, many thanks to the Cape Breton County Homemakers and the medical and nursing staff at the New Waterford and Cape Breton Regional Hospitals. Words of comfort may be expressed to Rosie's family by visiting www.tjtracey.com. Funeral Service will be live streamed through our Facebook Page T.J. Tracey Cremation and Burial Specialists.
Memorial Mass.
10:00 am - 11:00 am
Thursday, October 5, 2023
St. Anne's Church
Main St
Glace Bay , Nova Scotia, Canada
Memorial Mass for the late Rose Ann Emond.
Interment.
11:00 am - 11:30 am
Thursday, October 5, 2023
St. Anne's Cemetery
Wallace Road
Glace Bay, Nova Scotia, Canada
Interment of the late Rose Ann Emond.


OUR LOCATIONS
26 Esquire Lane, Bedford, NS 902.835.4212

370 Reserve St., Glace Bay, NS 902.849.4199
T.J. Tracey Cremation & Burial Specialists
370 Reserve St., Glace Bay, NS
​B1A 4X2
P: 902.849.4199
E:service@tjtracey.com

T.J. Tracey Cremation & Burial Specialists
71 McQuade Lake Crescent,
Halifax, NS
B4A 1A4
P: 902.835.4212
E:service@tjtracey.com