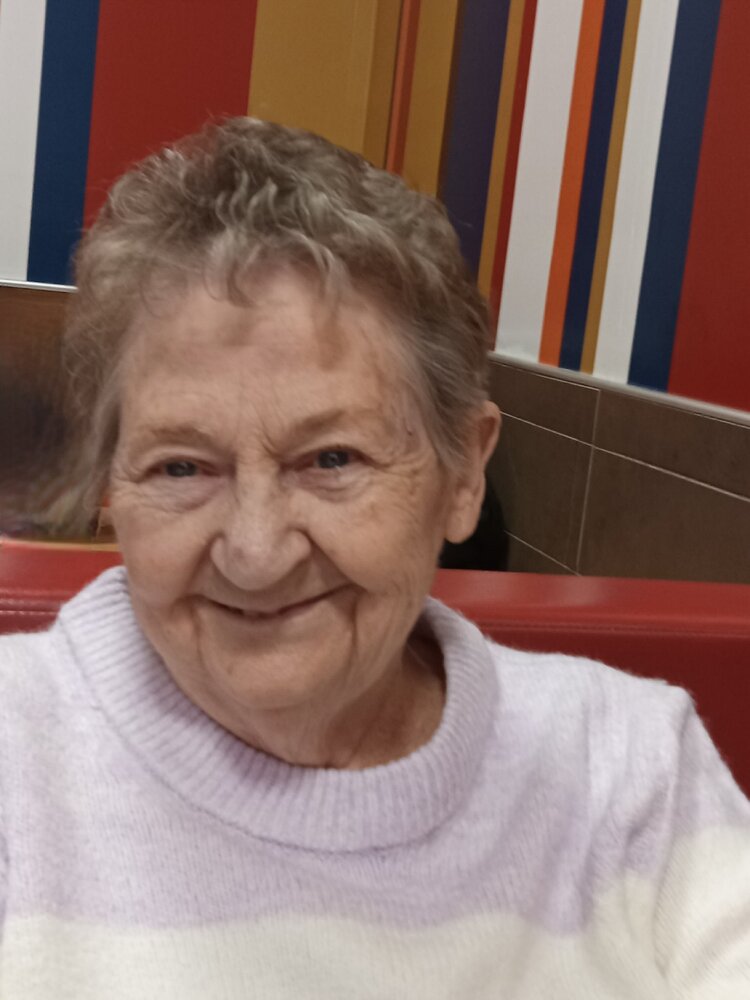 Obituary of Anne "Jerry" Geraldine Canning
Anne Geraldine Canning, 81 Reserve Mines, NS It is with the heaviest of hearts that we announce the peaceful passing of our beloved wife, mother, sister, grandmother and great grandmother, Anne Geraldine Canning (aka Jerry and to many Nan) at the age of 81 on May 29th, 2023. She was born in Reserve Mines to Thomas Anthony and Anne Carmella O'Leary (nee Bennett) and was the oldest of 9 children. Jerry was an amazing woman who lived a remarkable life filled with compassion, kindness, and unwavering love and it is because of this her memory will be forever etched in our hearts.  In her early years, Jerry opened her home and heart to sweet babies in foster care and provided them with a safe and loving environment.  She eventually moved on and began working in the food service industry, first at Big Ben's Deli in Sydney and then at A&W in Sydney and Glace Bay where she made lasting friendships with coworkers and customers who respected and adored her. Throughout her life, Jerry practiced her faith at St. Joseph's Parish and attended Mass faithfully.  A devout Christian, she instilled her beliefs in her children and grandchildren. You could not help but feel protected and blessed by the daily prayers she said for each and every one of her family members and friends. Her faith in God was strong and it served her well her entire life.  But it was within the walls of her home that Jerry truly thrived. As a dedicated housewife she transformed her house into a haven of warmth and love. Her caring touch was evident in every corner, creating an environment where family and friends always felt welcome. She poured her heart into creating delicious meals, knitting warm mittens, needle point, enjoying a good game of Bingo and tending to her garden imbuing every task with love and attention to detail. Her baking and cooking skills were second to none. We all looked forward to her warm meals, delicious desserts, and a good ole cup of tea. Jerry baked countless cinnamon rolls, cookies, and pies over the years and as much as we will miss them, we will miss her so much more. Christmas and summer vacations with family were so very special to Jerry - she lived for those good times. She loved being in her home, adored her family pictures and listening to her favorite Irish tunes.  She spent many summers gardening in her yard, and lounging on the back deck watching the kids play in the pool.  We are so very fortunate to have had so many special times with her - thanks for the memories! Jerry is survived by her loving husband Terry Canning, her daughter Raylene (Bernie) New Victoria, sons Gerard (Tane) Victoria, BC, Gery (Karen) Oakville, ON, and Patti (Leonard) Tantallon, NS whom she thought of as her daughter, her sister and very best friend Debbie, brothers Greg, Brian (Patricia), grandchildren Cindy (Chris), Robin (Kyle), Dakota, Keagan, Meaghan, Ryann, great grandchildren Brayden, Isaac, Emilia; special God children Cathy and Krista and many special nieces and nephews who loved her so much and called her Nan.  All of the children meant the world to her, and she loved them with all of her heart and soul, time and distance had no boundaries. Besides her parents, Jerry is predeceased by her brothers Gerard, Joe and Teddy, her sisters Linda and Mary, and sisters-in-law Viola and Laney. We would like to thank the management and staff of Maple Hill Manor who looked after Jerry over the past year and treated her as if she was family, your compassion and kindness will not be forgotten. Cremation has taken place.  Memorial Service has been entrusted to the care of T.J. Tracey Cremation and Burial Specialists, 370 Reserve St. Glace Bay on Wednesday, July 5th at 1:00 p.m. with Fr. Daniel Boudreau officiating. Interment will be immediately following at St. Joseph's Cemetery, MacLeod's Road, and reception to follow at 2 pm. In lieu of flowers please consider making a donation to St. Joseph's Holy Family Cemetery. Words of comfort may be expressed to the family by visiting www.tjtracey.com.
Visitation.
12:00 pm - 1:00 pm
Wednesday, July 5, 2023
T.J. Tracey Cremation & Burial Specialists - Glace Bay
370 Reserve St
Glace Bay, Nova Scotia, Canada
902-849-4199
Visitation for the late Ann Geraldine Canning.
Memorial Service.
1:00 pm - 1:40 pm
Wednesday, July 5, 2023
T.J. Tracey Cremation & Burial Specialists - Glace Bay
370 Reserve St
Glace Bay, Nova Scotia, Canada
902-849-4199
Memorial Service for the late Anne Geraldine Canning.
Interment.
1:40 pm - 2:00 pm
Wednesday, July 5, 2023
St. Joseph's Cemetery
MacLeod's Road
Glace Bay, Nova Scotia, Canada
Interment for the late Anne Geraldine Canning.
Reception.
Reception to follow the interment.


OUR LOCATIONS
26 Esquire Lane, Bedford, NS 902.835.4212

370 Reserve St., Glace Bay, NS 902.849.4199
T.J. Tracey Cremation & Burial Specialists
370 Reserve St., Glace Bay, NS
​B1A 4X2
P: 902.849.4199
E:service@tjtracey.com

T.J. Tracey Cremation & Burial Specialists
71 McQuade Lake Crescent,
Halifax, NS
B4A 1A4
P: 902.835.4212
E:service@tjtracey.com