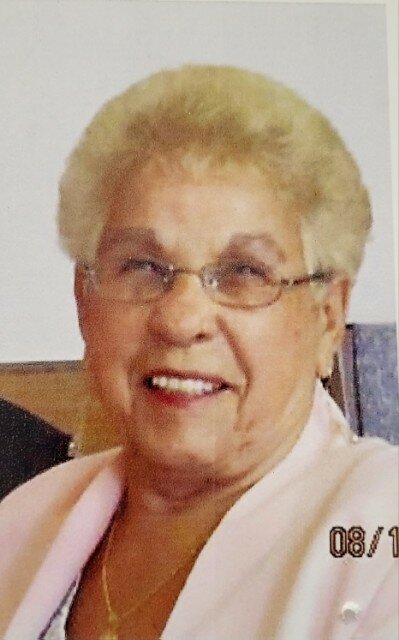 Obituary of Theresa Mae Wilson
Theresa Mae Wilson, 86 Glace Bay, NS With profound sadness, we announce the passing of Theresa Wilson. A loving and devoted mother, grandmother, aunt, sister-in-law, and friend too whom all lives she touched. On December 24, 2022, our mother left us while sleeping peacefully in Glace Bay Hospital, she was 86 years of age. Born in Glace Bay, she was the daughter of the late Leo and Mary Kearley. Mom met and married the love of her life and best friend Joe Wilson and had 62 wonderful years together. They had three beautiful children whom she loved dearly: Joanne Marie(deceased), Arlene (Mark) Kelly, and Gary (Francey) Wilson. Our mom was such a devoted mother who would take us on picnics down along the St. John's River, and always made sure we got a popsicle from the Ice cream truck. We always had fresh homemade bread and dessert to go with every supper. Theresa spent time with us and gave us her time whenever we were in need; she always would kiss our hurt away and sang "You are my Sunshine" to us on a regular basis. When we grew older, she was there with us when we had our children, and always helped in any way when we asked; there were many shopping trips and lunches together. Mom worked at the family business with Dad and Gary for many years; she loved to gather with family, especially at Christmas; she always looked forward to a night out on New Years's Eve at the Tower Rd. Firehall. The greatest gift mom received from her children were her grandchildren; Mark (Jen), Ricky (Ashley), Marlyce (John), Joseph (Joanne), and Angie (B.J.); she enjoyed sleepovers with all of them; playing dolls, dress up, Hockey, skating, beach days at Dominion Beach, making cookies and bread men ( which were brown from being rolled with dirty little hands), but together they laughed and enjoyed a cup of tea with them. Theresa loved her long walks along the railroad tracks with her grandchildren as well, this is where she taught the little ones how to count. She watched with pride and admiration as each one grew, graduated, and got married; then came more blessings with the arrival of great-grandchildren, she tried her best to create various memories with them, her health did not allow for many physical things, but lots of love was given, and many photos were had. Mom was blessed with sixteen great grandchildren, as well as four great great-grandchildren, with two more to arrive in 2023, she would be so delighted. Also surviving Mom are several nieces and nephews, she was proud of them all, and she showed her love to each one in many ways: two sisters-in-law, and many special friends, such as Viola Brufatto, whom mom loved dearly and thought of as a daughter; Joanne and Joe Caines, if something needed to be fixed, Mom would always say "Call Joe, he will fix it." Theresa also enjoyed the meals and fun times with the Caines family. Finally, mom's fur babies who gave her so much unconditional love and many laughs (we could all learn a thing or two from them); Taffy (her snowball) and Kamille (her monkey face from the rain forest). One asks, who was Theresa, she was a strong, determined, independent lady, who had multiple talents, one of those being an accomplished Artist of Oil Painting, such as landscapes, portraits, animals, and various others. Mom was also great at managing the finances at our family business (Wilson's Collision), Bridgeport, which she and dad created. Theresa also had a great love for reading, for which she read multiple books. Mom lived and taught her children to follow the Golden Rule, "Do unto others as you would have them do unto you," and another one of her sayings would be, "never forget where you came from, we are all equal." Back when Mom was younger, she would love to race go carts in Germany, with the wind blowing through her hair, and achieved various trophies, she was never afraid of her male competitor, and would run them from the track. At the age of sixty mom purchased her first Motorcycle, it was not common to see a woman driving one, she also loved to ride her snowmobile during the winter. Together with her husband, Joe, they enjoyed dancing, travelling all over, whether it be setting off on a cruise, or just visiting various provinces in their Motor home. Our mother lived a wonderful life, and we would like to thank all of you whom helped make this happen. Along with her parents, Theresa was predeceased by her loving husband Joe Wilson of 62 years; daughter Joanne; grandson Mark Kelly; brother Alphonsis; sister's Betty, Frances, Pauline, and Shirley; brothers-in-law; Gordon, Jack, Tom, Cyril, Joey, George, John, and Edward; sisters-in-law; Myrna, Madeline, Martha, Trudy, and Camille. Special thank you to EHS attendees, Emergency Dept. CBRH, Sydney, nursing staff, 3 East, in the Glace Bay Healthcare Facility: also, to Dr. Carol Boutilier for her many years of care. Because of our mother's love for animals, and the love she received from them, we ask that in Lieu of Flowers, memorial donations in mom's memory may be made to Sydney SPCA Humane Society or the Palliative Care Unit, Sydney, who took such great care of our dad "Rest easy Mom in the arms of the Lord, Dad, and Joanne, until we all meet again." Funeral arrangements have been entrusted to the care and compassion of T.J. Tracey Cremation and Burial Specialists, 370 Reserve St., Glace Bay, NS. 902-849-4199. Visitation for the late Theresa Wilson will be held on Thursday, December 29, 2022, from 5-7 p.m. Memorial service to be held on Friday, December 30, 2022, at 11 a.m., with Peggy McKinnon presiding. Words of comfort may be expressed to the family by visiting www.tjtracey.com.
Visitation.
5:00 pm - 7:00 pm
Thursday, December 29, 2022
T.J. Tracey Cremation & Burial Specialists - Glace Bay
370 Reserve St
Glace Bay, Nova Scotia, Canada
902-849-4199
Visitation for the late Theresa Wilson.
Memorial Service.
11:00 am - 12:00 pm
Friday, December 30, 2022
T.J. Tracey Cremation & Burial Specialists - Glace Bay
370 Reserve St
Glace Bay, Nova Scotia, Canada
902-849-4199
Memorial Service for the late Theresa Wilson.
Interment
12:00 pm - 12:20 pm
Friday, December 30, 2022
Calvary Cemetery
Main Street
Bridgeport , Nova Scotia, Canada
Interment for the late Theresa Wilson.


OUR LOCATIONS
26 Esquire Lane, Bedford, NS 902.835.4212

370 Reserve St., Glace Bay, NS 902.849.4199
T.J. Tracey Cremation & Burial Specialists
370 Reserve St., Glace Bay, NS
​B1A 4X2
P: 902.849.4199
E:service@tjtracey.com

T.J. Tracey Cremation & Burial Specialists
71 McQuade Lake Crescent,
Halifax, NS
B4A 1A4
P: 902.835.4212
E:service@tjtracey.com