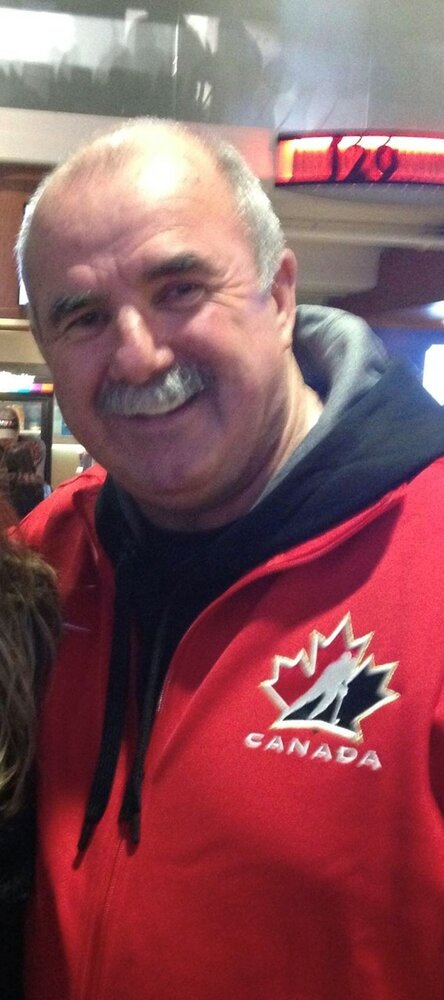 Share Your Memory of
Allan


Obituary of Allan Cathcart
Allan Cameron Cathcart February 26, 1954-February 22, 2022 With broken hearts, we, the family of Allan Cameron Cathcart, sadly announce his sudden and untimely passing at the Halifax Infirmary on Tuesday, February 22, 2022, four days short of his 68th birthday. His wife Judy and daughter Rebecca were at his side. Born in Picton, Ontario, he was the son of the late Cecil and Eva (Buchanan) Cathcart. Allan attended St. Anne's School and St. Michael's High where he was an avid hockey player, a sport he enjoyed all his life. He began his working career at the Glace Bay Heavy Water Plant, spent several years in the manager training program at the Metropolitan stores, and then graduated from the Atlantic Police Academy at Holland College. He was a police constable in Glace Bay for over 20 years and served a term as Police Chief in Louisbourg. Allan spent the last number of years as a safety officer, working in mines and on construction sites across Canada. A life-long supporter of the Liberal Party, he prominently displayed their largest election signs on his front lawn on Main Street. Allan held strong convictions and didn't suffer fools gladly. He was vocal in his opinions, but his gruff exterior hid a kind heart. He was the first to reach out to family and friends who needed a helping hand. Allan was a gracious host. Food and libations were plentiful, whether the occasion was his mother's 90th birthday celebration, the annual spaghetti and meatball supper he threw during the Vince Ryan Tournament, a Christmas dinner for 50, a summer barbeque, or a simple get-together for family and/or friends. He was also addicted to the cell phone, making numerous calls to family and friends on a daily basis. Allan is survived by his wife, Judy Conn; his former wife and friend Darlene Cuzner (Jim MacLean); his daughter Rebecca (Brad LeBlanc); his son Jeffrey (Bailee Kennedy); his stepson Troy Steele (Janelle MacLean); and his grandchildren Ceilidh and Carter Steele. Also surviving are his brothers Bruce (late Mary) and Aubrey (Robyn); his sisters Shelley (Noel) Cronin, Erna (Keith) Ferguson and Norma (Mark) Chiasson; sister-in-law Heather (late Eric) Cathcart, brother-in-law Dennis (Linda) Conn, sisters-in-law Patsy (Ron) Dawson, Crista (Johnny) Currie; aunts Shirley (late Wally) Buchanan and Alma (late Ed) Buchanan; numerous nieces, nephews, and cousins; god-children Sean Donovan and Dr. Bruce Edwards. Allan will be fondly remembered by his long-time friends Fraser MacAulay, Kenny Tracey, Ron Donovan, David Lee, Paul McDonald, and Brian "Boogie" Cuzner. He will be missed by his fur babies Ben and Juno Besides his parents, Allan is pre-deceased by his brother Eric, sister-in-law Mary and brother-in-law, Allan Conn. The family would like to thank the paramedics and the doctors and medical staff at the Regional Hospital and the Halifax Infirmary for their compassionate efforts to keep Allan with us. Thank you also to the management and staff of T.J. Tracey Cremation and Burial Specialists for making our journey easier. Following cremation, a Celebration of Life will be held on Sunday February 27, 2022, at 1:00 p.m. with Chaplin Lily MacDonald officiating at T.J. Tracey Cremation and Burial Specialists 370 Reserve St., Glace Bay, NS. We will continue to celebrate Allan at the Main Event starting at 5:00 pm. Memorials in Allan's name may be made to the Glace Bay Little League, Glace Bay Minor Hockey Association, or a charity of choice. The public are invited to view the Celebration of Life for Allan by visiting, liking and following our Facebook page,"T.J. Tracey Cremation and Burial Specialists." Words of comfort may be expressed to the family by visiting www.tjtracey.com. COVID-19 restrictions do apply. Proof of double vaccination and Government ID will be required. Masks are mandatory.
Celebration of Life
1:00 pm - 2:00 pm
Sunday, February 27, 2022
T.J. Tracey Cremation & Burial Specialists - Glace Bay
370 Reserve St
Glace Bay, Nova Scotia, Canada
902-849-4199
Celebration of Life for the late Allan C. Cathcart
COVID 19 Restrictions
COVID-1 restrictions do apply. Proof of double vaccination and Government Photo ID will be required. Masks are mandatory. Thank you. Livestreaming will be done through our Facebook page @ T.J. Tracey Cremation and Burial Specialists.
OUR LOCATIONS
26 Esquire Lane, Bedford, NS 902.835.4212

370 Reserve St., Glace Bay, NS 902.849.4199
T.J. Tracey Cremation & Burial Specialists
370 Reserve St., Glace Bay, NS
​B1A 4X2
P: 902.849.4199
E:service@tjtracey.com

T.J. Tracey Cremation & Burial Specialists
71 McQuade Lake Crescent,
Halifax, NS
B4A 1A4
P: 902.835.4212
E:service@tjtracey.com