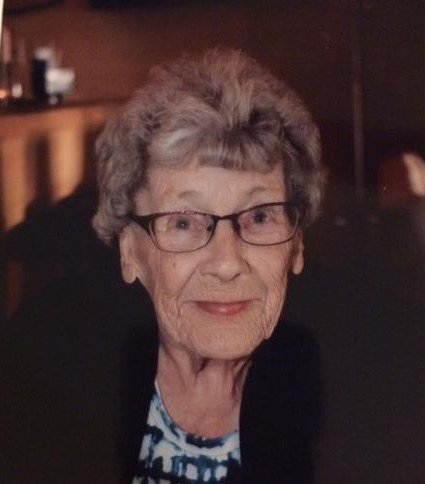 Obituary of Mary McMullin
Mary Theresa (Le Blanc) McMullin Dominion It is with heavy hearts and gratitude for a life well lived, that the family of the late Mary McMullin, of Dominion, announce her passing, on January 17, 2021, in her 94th year, at Victoria Haven, Glace Bay, where she resided the past few months. Born March 29, 1927 to the late Annie Jane (McIsaac) and Gilbert Le Blanc of Whitney Pier, where she lived until her marriage to the late Alexander McMullin of Dominion. From that point forward, Mom, called Dominion her home, never forgetting her Whitney Pier roots and always staying in touch with her "Pier" friends. Being a very social person, with a keen memory and a passion for conversation and storytelling, Mom was fortunate to have made, nurtured and enjoy many friendships during her long lifetime. She was especially fortunate to have enjoyed the ongoing support, attentiveness and generosity of her many caring friends and neighbors, and for her community at Bayview Court, Dominion, where she lived for many years; for all of which, she and her family have been grateful. She is survived by three daughters; Lorraine, (late William Ward), Glace Bay, Jane (late Robert Dennis), Red Deer, Alberta, Terese (Robert McKillop), Reserve Mines and three sons; Gregory, Toronto, Alan (Karen), Bridgewater, Gilbert, Dartmouth. She is also survived by seven grandchildren, Robert, Todd, Erin, Megan, Allison, Brennan, and Alex and four great grandchildren Kelsey, Victoria, Emma and William. Mom is predeceased by her son Harvey, a grandson in infancy, Liam, two sons in law, William Ward and Robert Dennis. She was the last surviving member of her immediate family and is also predeceased by her parents Annie Jane and Gilbert, sisters, Emily McCaw, Margaret McPhail 'Sissy', Catherine (Kaye) Le Blanc and brothers, Joseph 'Joker' (late Bertha), John (Margaret) and James Le Blanc. In honoring Mom's wishes, cremation has taken place under the care of T.J. Tracey's Cremation and Burial Specialists. A graveside service at St. Eugene's Cemetery, Dominion will take place at a future date. Memorial donations may be made to the Lung Association of Nova Scotia (ns.lung.ca), St Eugene's Cemetery Fund, or a charity of one's choice.
Graveside Service
A graveside service will be held at a later date in St. Eugene's Cemetery.


OUR LOCATIONS
26 Esquire Lane, Bedford, NS 902.835.4212

370 Reserve St., Glace Bay, NS 902.849.4199
T.J. Tracey Cremation & Burial Specialists
370 Reserve St., Glace Bay, NS
​B1A 4X2
P: 902.849.4199
E:tjtracey@outlook.com
T.J. Tracey Cremation & Burial Specialists
71 McQuade Lake Crescent, Halifax, NS B4A 1A4
P: 902.835.4212
E: tjtracey@outlook.com