Recommend Kevin "Bubba"'s obituary to your friends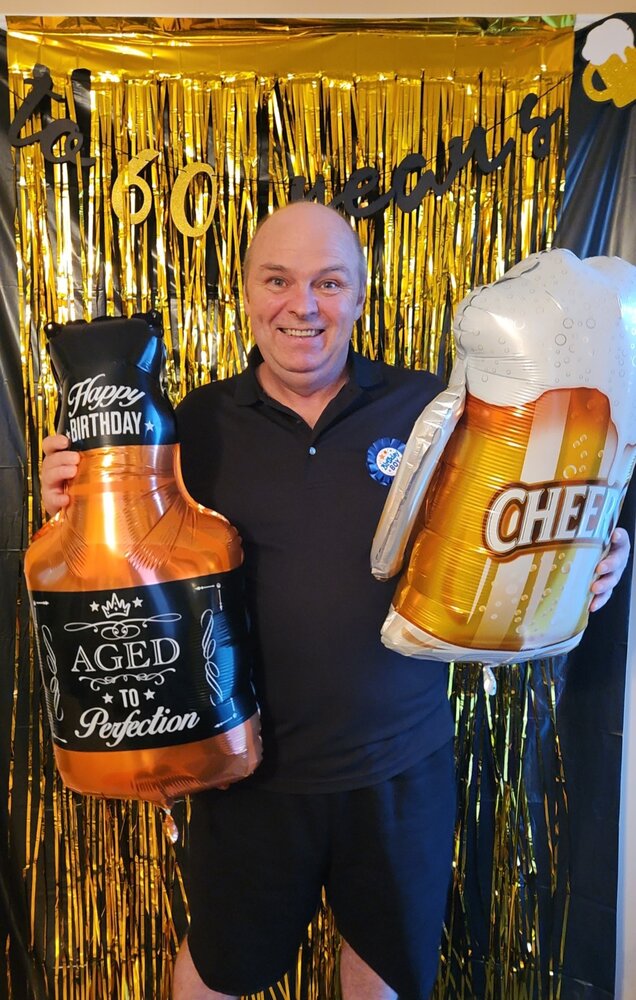 Obituary of Kevin "Bubba" Whiting
Kevin "Bubba" Whiting Glace Bay It is with the heaviest of hearts that we announce the sudden passing of our "Da" on July 6, 2023, at the age of 60. Da was born on June 28, 1963, in Glace Bay; he was the son of the late James Whiting and Eulalia Murphy. Da was a proud Cape Bretoner and living proof that you can take the boy out of the Bay, but you can never take the Bay out of the boy, especially when they are from Number Eleven. Growing up in Number Eleven, Da was a lover of all sports. A baseball star and a hockey hotshot (if you let him tell the story). From a young age, Da had the ability to light up any room he entered. He was the first person to befriend someone and make sure no one was left out. Qualities he carried until the very end. Da held various jobs throughout his life. Lots of our childhood memories involve being at the Co-Op where Da worked alongside coworkers who became lifelong friends. He eventually made his way to Grande Prairie, Alberta, where he worked for Cavalier Construction for the past twelve years and found a second family within his coworkers. Da will be fondly remembered for many things. His infamous smile and the "Whiting dimples," a laugh so contagious you could not help but smile and an absolute heart of gold. He was a one-of-a-kind friend and family member who would not hesitate to give the shirt off his back to anyone in need or offer up a cold drink or something to eat. When you were around Da, you were family, and he made sure you knew it. To know him was to love him. Da was an avid sports fan and player, a devoted New York Islanders and Cape Breton Eagles fan. He was the first to suggest a "pizza night" even if it was multiple nights a week. He was always known for his crazy antics and being the life of the party. Always full of mischief and one-liners. There was never a dull moment when in his company, always waiting to see what he would say or do next. Da was always quick to respond, the King of comebacks. A big part of Da's life were the "boys at the barn." He was a proud member of the "Poker Guys" and always looked forward to their annual golfing trips and nights at the barn. Whether it was to watch a sporting event or to clear out the pockets of his buddies, he was always happy to show off his winnings. We cannot thank the boys enough for the friendships and memories they gave our Da and the family they became. Da will be forever remembered by his lifelong partner, Nancy, and their two adoring daughters, Kayla, and Jenna. Da was many things in life, but above all, he was a proud family man, and it definitely showed when in the company of his two grandchildren, Ace and Jaxey. They were his pride and joy. The word "no" was never in his vocabulary when it came to them. He held such a special place in their little hearts and had such a profound impact on them. They will miss their "Da" dearly. Da has been reunited with his sisters Cathy, Sharon, and mother-in-law, Mary Hamood. He will forever be remembered by his brothers Jim (Darlene) and Rick (Melanie), godmother and aunt, Joey (Ron) Matheson, who Da adored and was like a second mother to him; his treasured nieces, Wendy, Melanie, and Lisa; his brother and sister-in-law, Conway, and Brenda Hamood, his "bonus daughter" Kayla Jean MacNeil, as well as several nieces and nephews, uncles, aunts, and cousins all of whom will hold him in their hearts forever. Family gatherings and events will never be the same without Da there to make his infamous spaghetti and meatballs, but after years of observation and taste testing, we will take over that honor and make Da proud. We got this. Anyone who knew Da would know that he would not want us to be sad, but rather celebrate a life well lived, even if it was cut way too short. While the countless memories and stories of him will live on and help us through this most difficult time, he has, without a doubt, left an unfillable void in the lives of those so fortunate to know and love him. Arrangements have been entrusted to T.J. Tracey Cremation and Burial Specialists, 370 Reserve St., Glace Bay, NS. 902.849.4199. A graveside service will be held on Sunday, July 16th at 2 pm at St. Anthony's Cemetery followed by a celebration in the honor of Da at his "second favorite barn" on 22 Norwood Street, Glace Bay. In lieu of flowers or donations, treat people with kindness, make the joke, and laugh from your toes. Life is far too short not to. "Ciao Bella." Words of condolences may be expressed to Kevin's family by visiting www.tjtracey.com.
Interment.
2:00 pm - 3:00 pm
Sunday, July 16, 2023
St. Anthony's Cemetery
Dominion St.
Glace Bay, Nova Scotia, Canada
Graveside service for the late Kevin "Bubba" Whiting.