Recommend Edward "Eddie"'s obituary to your friends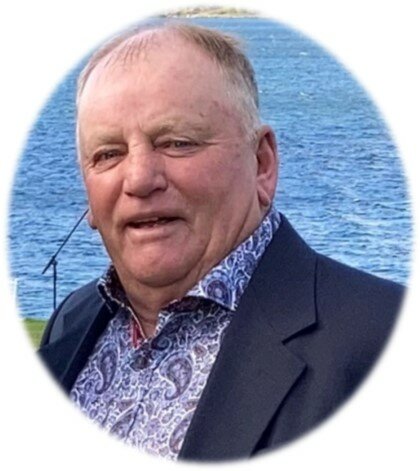 Obituary of Edward "Eddie" Francis Tracey
Edward "Eddie" Francis Tracey, 68 Albert Bridge/Glace Bay, NS We the family of Edward "Eddie" Tracey announce his passing in the Cape Breton Regional Hospital, Sydney, on Monday, April 17, 2023, at the age of 68. Born in Glace Bay, Eddie was the son of the late Trudy (Wilson) and Jigger Tracey. Throughout Eddie's life, he had a passion for horses, he and Trevor made countless trips to Truro attending the Thursday Horse Auctions, and then meeting up with Chris, to discuss their wheeling and dealings; One horse in particular was Eddie's sidekick "Little Man," a miniature pony, with a big personality, in which Eddie adored. Eddie loved to attend Exhibitions across the province with his son Chris and brother Trevor, he always looked forward to the Barrell Racing Class. Before retirement, Eddie was a long-standing member and employee with Local 1115 Labourers International Union of North America, for which he was President and an Executive Member for several years, he was very committed and strong on his belief of justice for better wages, safer working conditions, and health benefits. Most importantly Eddie's love and commitment to his family stood above everything, he loved to visit and tell stories (some of which were exaggerated), express a joke or two, and share a delicious meal. Eddie is survived by his son: Chris (fiancé Meg); partner, Vivian Tomas(Vivian's children and grandson: JP, Charris and RD; daughter: Rene; stepdaughter: Lisa; brothers: Bunny (Colleen),Robert, Kenny (Lezlee), Earl (Kim), Eric (Carol Ann), and Trevor; sisters: Peggy (Chuck), Debbie( Joe ), Jeannie, Linda (Tucker), and Colleen (Brad); grandsons: Dylan, Kaiden, and Morgan; Uncle John, as well as aunts, uncles and numerous nieces, nephews, cousins, and dear friends Adam, Carl, Beaver, and Donny, just to name a few. Besides his parents, Eddie was predeceased by his wife Eva (Westwood); brothers, David, and Greg; sisters, Sandy, and Sharon. Visitation for Eddie will be held on Thursday, May 4, 2023, from 3-6 p.m. A Celebration of Life, with Fr. Duaine Devereaux presiding, will be held on Friday, May 5, 2023, at 1 p.m., all in T.J. Tracey Cremation and Burial Specialists, 370 Reserve St., Glace Bay, NS, B1A 4X2. 902.849.4199. Donations may be made to the Palliative Care Unit, Cape Breton Regional Hospital. We the family would like to give special thank you to the Doctors, and Nurses in the Cancer Centre and Palliative Care Unit at Cape Breton Regional Hospital and VON; to Leah, Eddie's Nurse, thank you for everything, the care and compassion shown to Eddie and family was appreciated. Thank you to Vivian, her children, and his sister Colleen for being there with Eddie through every step of his journey, we will be forever thankful; and to all of Eddie's friends and neighbors who have helped look after Little Man, his horses, and who have visited Eddie; as well as reaching out to his family at this most difficult time, we thank you from the bottom of our hearts. Words of condolences may be expressed to the family by visiting www.tjtracey.com. There is something about the Outside of a Horse, That is Good for the Inside of a Man.
Visitation.
3:00 pm - 6:00 pm
Thursday, May 4, 2023
T.J. Tracey Cremation & Burial Specialists - Glace Bay
370 Reserve St
Glace Bay, Nova Scotia, Canada
902-849-4199
Visitation for the late Edward "Eddie" Tracey.
Celebration of Life.
1:00 pm - 2:00 pm
Friday, May 5, 2023
T.J. Tracey Cremation & Burial Specialists - Glace Bay
370 Reserve St
Glace Bay, Nova Scotia, Canada
902-849-4199
Celebration of Life for the late Edward "Eddie" Tracey.
Reception.
Reception to follow the Celebration of Life.