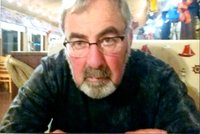 Michael Peter Aucoin
After a "knock 'em down, drag 'em out" battle with Parkinson's Disease, Mike (Gar), passed away peacefully at home at age 81 on November 1st, 2019 with his wife Marilyn at his side.
Gar was born in Sydney, the eldest child of William and Josephine (MacInnis) Aucoin.
"Gar" graduated from St. FX in 1962 and entered Holy Heart Seminary in Halifax. Upon ordination, he returned to the Sydney area and worked as a priest both in parish work and as a chaplain with the Young Christian Student Movement. Gar met Marilyn, his wife of 48 years, through YCS and they married in 1971. Gar graduated from St. Mary's University in 1970 and taught at various schools in Dartmouth before retiring in 1996. Gar was a sports enthusiast, particularly for the Montreal Canadians and Boston Red Sox, following all their seasons religiously. He dedicated many years to coaching young people in Dartmouth both at Dartmouth High and city leagues. One of his proudest accomplishments was that he walked, over a number of years (even after being hit by a bus) across the province with his good friend Wayne Struthers. Gar was a devoted husband, father, and grandfather, always putting our needs and wants before his own.
Gar is survived by his wife Marilyn (Windsor); his three sons Matthew of Dartmouth, Paul (Bridget) of Perth, Australia, and Dylan of Toronto; he leaves behind his two treasured grandchildren, Isobel and Michael Aucoin; he also leaves behind his sisters, Mary Ellen Morrison (Jim) and Shirley, both of Sydney; his brother Jerome (Brenda Morrison) of Breton Cove, NS; his brothers in law Bill (Sheila) Windsor of Sydney NS, Graham (Marg) Windsor of Lower River Inhabitants NS, and Howard (Debbie) Windsor; sister in law Joan Cox (John) of Dartmouth; and he is also survived by numerous nieces, nephews, and cousins.
Beside his parents, he was predeceased by his sister Evangeline.
Funeral arrangements have been entrusted to T.J. Tracey Cremation and Burial Specialists, Halifax. (902-835-4212)
A Funeral Service will take place on Thursday, November 7th, 2019, at Saint Peter Parish, 10 Maple Street, Dartmouth NS, at 11:00 am.
Family flowers only. Donations in Gar's memory can be made to the Parkinson Society (www.parkinsonsociety.ca/donate), or the VON Nova Scotia (www.von.ca/en/donate-now).
The family would like to thank in particular, Dahlia Scott, Gar's homecare worker for the past three years. She took care of him up to and including the end. A thank you as well to Phillip Batt with the VON. We would be remiss if we didn't express our heartfelt thanks to our many friends who regularly dropped in to visit with Gar. Maureen Carew, Kevin & Shirley MacPherson, Bertilla Sampson, Wayne Struthers, Lloyd Grant, Bob Pembrooke, and his driving buddy, Chick Chisholm.
Families are what sustains us. Gar was blessed with a wonderful birth family and in law family. All have been extremely supportive to us through the years and especially so in the last few.
To Mary Ellen, thank you so much for your caring phone calls and visits. To Jerome and Brenda who made the effort to travel here regularly, always bearing food and drink. Gar Treasured your visits. To Joan who virtually never missed a day checking in or visiting or cleaning the house. Words cannot express our gratitude. To Howard who visited regularly with decadent treats made by Debbie. God bless all of you!