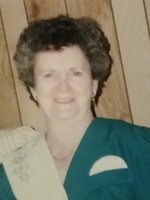 Colleen Bonner
Colleen Rose (Dobranski) Bonner
North Sydney/Glace Bay
Colleen Bonner was born November 1933 to the late Daniel and Elizabeth (Connington) McIntosh passed away November 1, 2019 at the Northside Community Guest Home with her sister Shirley at her bedside.
Colleen was a member of St. Anne's Church, Glace Bay, the CWL, St. Anne's Choir and St. Joseph's Hospital Auxiliary. Colleen was a very kind person and was loved dearly by her sister Shirley.
Besides her parents, Colleen was predeceased by her first husband, Frank Dobranski, infant son, Colin; step-son, Frank 'Skippy' Dobranski and second husband, Thomas 'Buddy' Bonner; sisters Annie, Jane, Teresa, Mary , Amelia 'Danno' ; brothers, Tommy, Johnny, Clarence 'Toots', Joe and Angus.
Colleen is survived by her sons, Garfield Dobranski and Daren (Meena) Dobranski; grandson, Michael, great grandson, Lucas Christopher; sister, Shirley Pemberton (Steve MacDonald). Also are surviving Buddy's children, Barbara, Nicky, Geraldine, Terrence, Grady and Glen, brothers- in-law, John Baird, Francis (Peggy) Bonner and Jack Byrne; sisters-in-law, Rita McIntosh and Rhodina (Louie) LeCreux and a large number of nieces and nephews.
The family would like to thank the nurses, LPN's and staff of the Northside Community Guest Home for the wonderful and loving care they showed for Colleen while she was a resident there.
Thank you to the doctors and nurses of the CBRH, Emergency Dept., An Cala Palliative Care Unit and the volunteers of the Palliative Care Unit for the care and kindness they showed Colleen and Shirley while Colleen was there.
There have been so many people who have been so kind to Colleen over the years, I cannot thank you enough. A special thank you to Karen for being there for Colleen during her stay at the Northside Community Guest Home.
Cremation has taken place. Visitation will be held from 1-2 p.m. Tuesday, November 5,2019 with a memorial service to follow at 2:00 p.m. with Fr. Duaine Devereaux officiating, all taking place at T.J. Tracey Cremation and Burial Specialists, 370 Reserve St., Glace Bay, NS (902-849-4199) Burial to follow in St. Anne's Church Cemetery, Glace Bay.
Expressions of sympathy may be sent to the family by visiting www.tjtracey.com