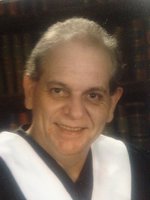 John Blaise "Tiger" O'Connell
John Blaise O'Connell
Glace Bay
It is with broken hearts that we the family of John Blaise "Tiger" O'Connell announce his sudden passing at home, on Tuesday, October 29, 2019.
Born in Glace Bay in 1952, he was the son of the late Michael and Elizabeth (Gouthro) O'Connell.
Tiger as he was known by many, was witty, had a great sense of humour and could make you laugh regardless of the situation. He was employed as a miner with Devco for 24 years. After the closing of the mine, he furthered his education at NSCC and was proud of these accomplishments.
John Blaise is survived by his daughter, Lisa (Martin Morrison), son Adrian; grandchildren, Mya and Keigan Morrison; former wife and best friend, Mary (MacPhee) O'Connell; partner, Tina Currie; sisters, Marie, Cathy (Frank) and Rose; brothers, Mike (Mary), Dan Joe (Linda), Leo (Judy), Francis (Ruth) and Ray as well as many nieces and nephews.
Besides his parents, he was predeceased by his sisters, Carol Helle and Patsy Bailiie; brother, Adrian O'Connell; brothers-in-law, Jerome Kelly and Brian Baillie.
Cremation has taken place. Visitation will be held Sunday, November 3, 2019 from 1-4 p.m.A memorial service will take place 1:00 p.m. Monday, November 4, 2019 with Fr. Duaine Devereaux officiating, all taking place at T.J. Tracey Cremation and Burial Specialists, 370 Reserve St., Glace Bay, NS (902-849-4199). There will be a celebration of life to follow at the Hub Club, Centre Avenue, Glace Bay from 6-9 p.m. All are Welcome. Donations in John Blaise's memory may be made to your local Food Bank.
Expressions of sympathy may be sent to the family by visiting www.tjtracey.com