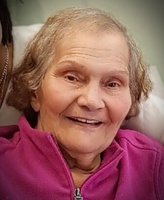 Mariam Basilious
On October 4th, 2019 Mariam Basilious joined the Lord Jesus Christ in the bosom of our Heavenly Father. Mariam was born on February 5th in Cairo, Egypt to Kest and Shafika.
Mariam was a genuine soul who always had a smile on her face. She was always a great support to her children and grandchildren. Mariam loved to be outdoors, feeling the warmth of the sun, but most of all she loved to be surrounded by her family.
Mariam is survived by her loving children Rafik Arsanious, Eva Marcos, and Nancy William. She was a proud grandmother to Rasha, Maryam, Julia, Fady, Ramy, Dena, and Mena. She is further survived by her great- grandchildren Michael, Gabriella, and Easton.
Private services will be held at Saint Mena's Coptic Orthodox Church.
May the Lord repose her soul in the Paradise of Joy.