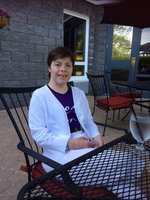 Kelly Lynne Slaunwhite
Slaunwhite, Kelly Lynne, age 46, of Halifax
It is with heavy hearts and great sorrow that we announce Kelly passed away peacefully on Saturday, September 7, 2019 at Hospice Halifax as a result of Alzheimer's disease. Our angel is now in the arms of God.
Kelly was predeceased by her grandmother, Lorraine Amiro (Slaunwhite) and grandparents Ted and Edna (Carroll) Were, uncles Alvin Amiro and Rev. Roy White.
Kelly is survived by her parents, David and Susan (Were) Slaunwhite; brother Troy (Kim), nephew Carter; sister Julie (Scott) Welsh; nephews Connor, Ryan and Liam and only niece Mackenzie.; aunts Carol White, Evelyn (George) Roy; Judy (Dave) Vickers; uncles Earl (Liz), Fred (Bev), Albert (Bev), Ron (Donna), and Phillip (Sandra) Were.
Kelly loved her family, work, people and was the life of any gathering. She enjoyed music, singing, dancing, movies and talking to her friends on the phone.
Her working career included Wendy's Restaurant, Prescott Group and Knightsbridge Robertson Surrette. She always complimented her co-workers and often told them what hard workers they were.
She participated in Special Olympic Bowling and Swimming for many years and enjoyed all their banquets, dances and events.
Her family would like to thank her employers and co-workers and Prescott Group staff who have supported her over many years. Special thank you to the wonderful medical team and caring staff of Hospice Halifax who made Kelly's final 17 days comforting for both her and her family.
Kelly touched many people and always made you feel very special to her and you were. Most notable was her longstanding friendships with Ian Hall, Jim Todd and Julia Greene.
Visitation from 6pm to 8pm, Thursday, September 12th at T.J. Tracey Funeral Home, 71 McQuade Lake Crescent, Bayer's Lake, Halifax.
Celebration of Life will take place Friday, September 13th at 11 am, Grace Chapel, 255 Ross Street (corner of Farnham Gate Road).
Interment at a late date.
Donations may be made on Kelly's behalf to Hospice Halifax, 618 Franklyn Street, Halifax B3H 3B4 or Prescott Group Society, 3430 Prescott Street Halifax, B3K4Y4.
Funeral arrangements have been entrusted to T.J. Tracey Cremation and Burial Specialists, Halifax (902) 835-4212. Online condolences may be sent to the family by visiting: www.tjtracey.com