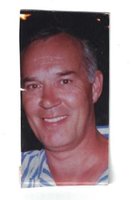 Barrington Ernest "Barry" Herod
It is with great sadness that we announce the passing of Barrington (Barry) Ernest Herod, 79, who died peacefully on Tuesday, September 3rd, after a long battle with cancer. Barry died at the Halifax Hospice with the love of his life, his wife, Mary Elizabeth (Grant), at his bedside.
Barry was born in Watford, U.K. and immigrated to Ontario after the Second World War with his mother and a sister. As a youngster, Barry took to hockey and in the late 1950's, he was scouted as a goal tender by the Peterborough Petes and was a life-long Toronto Maple Leafs fan. As a young man, Barry served in the Canadian Army Reserves as a driving instructor for heavy vehicles. Barry left Canada for a short period in the 1960's and returned to the U.K. where he worked as a truck driver. Sometime after he returned to Canada, he opened a Manpower Temporary Services franchise in St. Catherine's, Ontario. He eventually moved to Nova Scotia where he opened Manpower Temporary Services offices in Halifax, Moncton, Fredericton, Charlottetown and St. John's, NL. While running his Atlantic offices, Barry decided to take up flying and earned his pilot's license in 1982. In his later years, Barry was a driver for Ambassatours where he also became an instructor and taught others how to drive the company's double decker busses. Barry was also active in the Rotary Club and was a past president of the Rotary Club of Halifax Northwest. Barry and Mary were a devoted couple for 24 years and enjoyed golf, socializing with friends, numerous vacations to the Dominican Republic and cycling on the Magdalen Islands.
Barry was predeceased by his parents Clifford Lewis, Gwenneth Lewis Herod, and stepfather Ernest Charles Herod.
Barry is also survived by sons Jason (Jennifer), Fort Worth, Texas; Geoffrey (Cora Cole), Halifax; grandsons Bennett and Elliott; sisters Beverley Heilbron (William), Burlington, Ontario; and Julie Sage (Terry), Peterborough, Ontario; brothers, Kevan (Roberta) Duoro-Dummer, Ontario; Michael (Susan), Niagara Falls, Ontario.
The family wishes to thank the many doctors, nurses, and staff at the Q.E.II Health Sciences Centre who cared for Barry, especially Dr's Greg Bailey and Sam Campbell.
The family would also like to thank the volunteers and staff at the Halifax Hospice for their kindness and the comfort they gave to Barry and Mary.
There will be a service and celebration of Barry's life at T.J. Tracey Cremation and Burial Specialists, 71 McQuade Lake Crescent, Halifax (902-835-4212), on September 20th, at 11:00 am.
Donations in Barry's memory can be made to Hospice Halifax by visiting https://hospicehalifax.ca/donate-now/.
Online condolences can be made by visiting tjtracey.com.