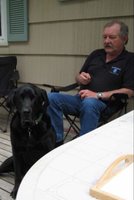 Vernon Douglas Thornton
Vernon Douglas Thornton, age 71 of Cambridge, passed away August 28th, 2019, at the QEII.
Born in Halifax, he was a son of the late Leonard and Edna (Williamson) Thornton.
Vernon worked with the Halifax Regional Police for 29 years, and he was an avid hunter and fisherman.
He is survived by son Justin; daughters Christina and Chelsea; brother Lenny (Robyn); sisters Stella (Billy) and Denice; grandchildren Brett, Brittany, and Jesse; and several nieces and nephews.
Beside his parents, he was predeceased by brother Stewart and daughter Tracey.
A memorial service will be held on Friday, September 6th 2019, at 10:00 am, at T.J. Tracey Cremation and Burial Specialists, 71 McQuade Lake Crescent, Halifax. (902-835-4212)
In lieu of flowers, memorial donations can be made to the Heart and Stroke Foundation.