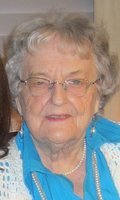 Catherine Cecilia Libbey
LIBBEY (Penney), Catherine Cecilia "Kay"
Age 95, of Halifax, passed away August 26, 2019, at Ivy Meadows Continuing Care Centre, Beaverbank.
Born in Sydney, Nova Scotia, she was the daughter of the late Joseph and Mary Obeline (Pottie) Penney.
Always young at heart, known by her grandchildren as Grammie Kay a.k.a. "The Fun Grammie", remaining true to her Cape Breton roots no matter where life took her, keeping her sense of humour when times were hard, she will be remembered by all who knew her as a special lady.
Survived by daughters, Beverley McNeil, Barbara (Michael) Gregory, and Catherine (Glen) McDougall; sisters, Jenny Gammon (Roy) and Helen MacDonald (Frank) and sister-in-law, Meryl Penney; grandchildren Cheryl (Steven) McNeil-Mansfield, Paul Jody McNeil, Michael (Genevieve) Gregory, John (Laura) Gregory, Mark (Zabrina) Gregory, Libbey (Wade Graham) McDougall, Ainslie (Mike) McDougall-West, Donald (Betsy Wong) McDougall, Beth (Kyle MacIsaac) McDougall; and great-grandchildren: Tyler, Spencer, Parker and Sarah Mansfield; Satya McNeil; Hannah, Liam, Olivia, James, Matthew, Sophia and Naomi Gregory; Katherine, Jane, Cyril and Leo Gregory; Kellen and Elowen West; Kaden Graham; and many nieces and nephews who knew her affectionately as Aunt Kay.
Predeceased by husband, Paul Libbey, and their son, Paul Allan; son-in-law, Joseph McNeil; sisters, Margaret (Fred) Longaphy and Martha (Paul) Chiasson; brothers, Tom (Alice), Leo (Shirley) and Vince.
Cremation has taken place. There will be no visitation. Funeral Mass will be celebrated in St. Theresa's Church, 381 Whitney Ave, Sydney on Saturday, September 7 at 11 a.m. with Rev. Dennis Lamey presiding. Reception to follow at St. Theresa's Parish Centre, 285 St Peters Rd. Burial to follow in the parish cemetery.
Family flowers only. In lieu of flowers, donations to the Cemetery Fund of St. Theresa's Parish, Sydney, or charity of choice.
Special thanks to the staff of Ivy Meadows who surrounded our mother with love and support and cared for her as if she was their own mother.