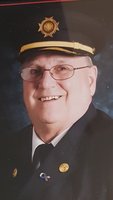 Eddie John MacKenzie
PHOTO/LOGO
Eddie John MacKenzie
It is with great sadness we regret to announce the sudden passing of Eddie John MacKenzie, age 78, on August 7, 2019 at home.
Born in Dominion, he was the son of the late Wilburn and Sarah MacKenzie.
Eddie John was employed for many years with the Cape Breton Development Corporation. He was a proud member of the Dominion Volunteer Fire Department with 45 years service. Eddie John was a great community volunteer. He loved a good game of hockey (Toronto Maple Leafs) , but most of all he enjoyed spending time with his family.
Eddie John is survived by his loving wife of 52 years, Ellen Marie (Stefura) MacKenzie; three beautiful daughters, Kathy (Jamie), Edwina (Jack), Annette (Scott); three precious grandchildren, James, Caitlyn and Nathan; two sisters, Germaine and Mary Ellen; as well as brothers and sisters-in-law, and several nieces and nephews.
Besides his parents, he was predeceased by his brother, Wilburn; sisters Anita and Rosie.
Cremation has taken place. Visitation will be held Sunday, August 11, 2019 from 4 to 8 pm with a memorial service to be held 2:00 p.m. Monday, August 12, 2019 with Fr. Daniel Boudreau officiating all taking place at T.J. Tracey Cremation & Burial Specialists, 370 Reserve St., Glace Bay, NS (902-849-4199). Burial to follow.
In lieu of flowers, memorial donations may be made to the Dominion Volunteer Fire Department.
Expressions of sympathy may be sent to the family by visiting www. tjtracey.com