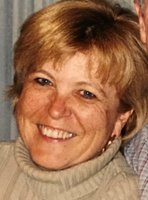 Nancy Brown Fellows
With great sorrow, the family of Nancy and Joe Fellows announce her peaceful passing from peritoneal cancer at home in Milton, Ontario July 24, 2019. With great courage and an amazingly cheerful and benevolent attitude, Nancy battled through her 18-month illness. Her family, friends and clinicians all commented on her dignity and strength during her difficult illness. "I am a woman of faith" was a common comment heard from Nancy.
Nancy was born in Halifax the daughter of Geraldine (Dean) in Alfred (Al) Brown of Bedford Nova Scotia. She graduated from Oxford School, Saint Patrick's High School and the Halifax Infirmary's Nuclear Medicine Program. She later obtained degrees from Charles Stewart University as well as a Masters in Adult Education from Central Michigan University. Living in the Greater Toronto area since 1988, Nancy enjoyed a successful 37-year career in the Health Sciences and Education. Beginning her career as a nuclear medicine technologist she became a Program Manager for the Michener's Institute. she completed her career as an Academic Researcher at Mohawk College in Hamilton. Retiring in 2014.
In 2005, Nancy and her husband Joe relocated to Milton, Ontario. During her last five years, Nancy enjoyed volunteering at Holy Rosary Church in Milton, working casually at Sheraton College in Brampton, Ontario
She was a faithful member of the Holy Rosary Roman Catholic Church in Milton. Serving on several ministries Nancy also held the honour of being a past president of the Catholic Women's League. In her early adult years she enjoyed traveling throughout Europe with her dearest friend Cindy. Cruises, vacations with friends in Florida and visits to historical civil war sites were some of her and her husband Joe's favourite destinations.
Nancy is survived by her husband Joseph, stepsons Patrick and Daniel; mother and father (Alfred and Geraldine Brown) of Bedford, NS; mother-in-law Marie Fellows (Ken deceased); brothers David (Jocelyn) and Gary (Peggy) all of Halifax. She is also survived by her Uncle Tom and Aunt (Betty) Guinan of Halifax, NS; Aunt AnneMarie (John) Barter of Riverview NB; nieces and nephews Laura, Colin, Evan, Aleka, Alasdair. She was predeceased by grandparents Isabella and David Guinan (Halifax, NS) Josephine and Ernest Brown (Chatham, NB) and Aunt Mary (Victor Neufeld) of Bragg Creek, Alberta.
All who knew Nancy will remember her kind and gentle heart. A funeral service will be held on Monday July 29th at Holy Rosary parish, Milton. at 11am. A Mass of Christian Burial will also be held at St. Ignatius Parish, in Bedford, NS on August 12th at 1:30. In lieu of flowers donations can be made to Nancy's favourite Christian charity "Chalice" 26 UnionStreet, Bedford, NS B4A 2B5 www.chalice.ca