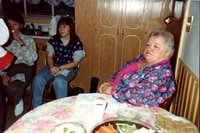 Phyllis Slaunwhite
It is with great sadness we announce the passing of Phyllis Marion Slaunwhite, August 4th, 2019, at the QEII.
She was a beloved wife, mother, sister, grandmother, great grandmother, and aunt.
Mom was a daughter of the late Norman (Jollimore) and Alice.
Survived by her 5 sons, John, Larry (Beatrice), Barry (Alvina), Darren, and Jason; brother Richard Jollimore (Jeanette); 4 grandchildren, Tammy (Harrie) Bruce, Jennifer, and Catherine Slaunwhite; 2 great grandchildren, Jaylyn (Harrie) and Brody (Harrie); as well as many nieces and nephews.
Phyllis was predeceased by her husband "Vern", son Norman in infancy; 3 sisters Rita (Mauger), Dorothy (Slaunwhite), and Thelma (Thomas); daughter Una (Harrie), and grandson Jason (Harrie).
Mom loved to play bingo. She'd hitch a ride with her bingo buddies. When the phone rang, it was a short conversation and you could hear: "Hey, you goin' tonight? Yeah. Ok, I'll get my duds on!" In her earlier days, Mom hooked mats and always seemed to be redecorating the house from painting to wall papering. She was a member of St. Paul's Church. Mom always had a green thumb and her Dahlia's flourished. She liked to get dressed up but on the other hand she wore shorts in the dead of winter. She enjoyed shopping, baking, and loved making fish n' chips when we'd bring home fresh fish. Her home cooked meals and fresh baked bread and pies will sure be missed.
Cremation has taken place under the care of T.J. Tracey Cremation and Burial Specialists, Halifax. (902-835-4212.)
A visitation will be held on Saturday, August 10th, 2019, from 9:30 to 11:00 at T.J. Tracey Funeral Home, 71 McQuade Lake Crescent, Halifax. Funeral service will immediately follow visitation in the funeral home chapel at 11:00, with reception to follow. Interment to follow at St. Paul's Anglican Church Cemetery in Terence Bay.
In lieu of flowers, memorial donations may be made to the St. Paul's Anglican Church, Terence Bay NS.
"We begin to remember not just that you died, but that you lived. And that your life gave us memories too beautiful to forget."