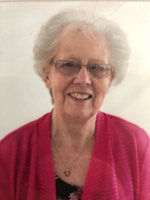 Barbara Jean Ross
Barbara Jean Ross (MacLellan)
Glace Bay
Barbara Jean Ross (MacLellan), 83, of Glace Bay passed away peacefully July 7, 2019 at the Cape Breton Regional Hospital. Born in Glace Bay, Nova Scotia she was the daughter of the late Earle and Julia MacLellan.
Barbara was involved with Warden U.C.W., several church committees, and FSNA. Barbara worked many years at the Sydney Weather office and final working years at Revenue Canada Sydney.
Mom was a very active community servant... always "out and about" visiting friends, family, and those in need. Everyone knew and loved her for her gift of weaving a story, as she frequented almost every tea and social event around. She especially enjoyed her travels and her frequent visits to Ontario to visit her beloved granddaughter "Cassie". She was well known for her love of shopping, but her love of church and family exceeded all. This quality was/is shared by both mom and her fiancé Alfie. She will be forever in our hearts and will be dearly missed, but we know she is happy now to be in the presence of God, the angels and those gone before her.
She is survived by fiancé Rev. Alfred Dejeet, daughters: Laurie Lynn Ross (Brian Clements), Leah Beth Ross MacLean (Kevin MacLean), brother: Roy MacLellan (Donna), and granddaughter Catherine Julia MacLean "Cassie".
She was predeceased by William Roy Ross.
Visitation will be held Wednesday, July 10, 2019, from 5-8pm at Warden United Church, 44 5th Street, Glace Bay. Funeral will take place Thursday, July 11, 2019 at 2:00pm at Warden United Church with Rev. Alison Etter, interment to follow in Forest Haven Cemetery. In lieu of flowers, memorial donations may be made to Warden United Church, Cape Breton Regional Cancer Centre, Heart and Stroke Foundation or SPAC.
Special thank you to Dr. Carol Boutlier, Robert Burrows, Michelle Kelly and the staff of Palliative Care Sydney and all the other "angels" that helped us navigate this path.
Funeral arrangements are entrusted to T.J. Tracey Cremation and Burial Specialists, 370 Reserve Street, Glace Bay, Nova Scotia, 902-849-4199. Expressions of sympathy may be sent to the family by visiting www.tjtracey.com