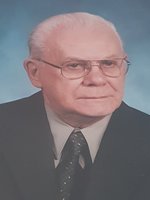 Raymond Eugene "Ray" Lockman
Raymond Eugene Lockman
Glace Bay
We the family of Raymond Eugene Lockman are saddened to announce his passing on July 2, 2019 in the Glace Bay Hospital at the age of 96.
Born to the late John and Veronica (MacInnis) Lockman, Ray is survived by his loving daughter Donna and son-in-law John Lynk who he loved like his son. His pride and joy were his grandchildren Chris (Melissa) Ottawa, and Amanda (Jason), Glace Bay; great grandchildren Abbey, Cody and Emery; as well as many nieces and a nephew. He will be missed by fur babies Roxy, Ally and Toby. Also left behind to mourn are Mary and Mike MacIntyre whom he loved like family.
Besides his parents, he was predeceased by his wife Eunice; daughter Carol Ann; sister Lola and brother-in-law Dan Graham.
Ray, a long time resident of Main St., Glace Bay, had been residing at Taigh Na Mara, Veteran's wing for the past couple of years. He graduated from St. Anne's High School, served in the Canadian Air Force, attended St. F.X. University and later obtained his Registered Industrial Accountant Certificate. Ray had a lengthy accounting career working mainly as Comptroller for St. Joseph Hospital and retiring at the age of 72 from Ron May Pontiac.
Dad was a kind and giving man who loved to read, listen to music, and watch his "Blue Jays". He enjoyed meeting people and always had many stories to tell.
Ray was a devout member of Immaculate Conception Parish and served many years as Treasurer of the Men's Club and served on the Parish Council.
Many thanks to Dr. Ian Oei and Shirley, Dr. James McLean and the staff of Taigh Na Mara and the Nursing staff of 3 East at the Glace Bay Hospital for their kindness and care shown to Dad. Thanks to the V.O.N and a special thanks to Bernice Grant who was always there for Dad.
Visitation will be held on Friday, July 5, 2019 from 5 p.m. to 8 p.m.at T.J. Tracey Cremation and Burial Specialists, 370 Reserve St., Glace Bay. A funeral mass will take place 11 a.m. Saturday, July 6, 2019 at Immaculate Conception Church with Fr. Dan Boudreau officiating concelebrating with Fr. Jim Oliver. Burial will follow in the parish cemetery.
Donations in Ray's memory may be made to the Marcia Fiolek Memorial Playground Fund or the Immaculate Conception Cemetery Fund.
Expressions of sympathy may be sent to the family by visiting www.tjtracey.com