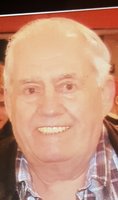 Ray Sharpe
PHOTO/LOGO
Arthur Raymond "Ray" Sharpe
Reserve Mines
We the family are saddened to announce the sudden and peaceful passing of Ray at the CBRH emergency department after a six month battle with pulmonary fibrosis, surrounded by the ones he loved the most
Ray was born in Glace Bay, the 3rd of 9 children to the late Art and Elizabeth (Poirier) Sharpe. Ray was raised in No. 11 and resided the past 24 years in Reserve Mines. He is survived by his only child Laura Lee at home, brothers, Jerry (Pat), Port Hawksbury, Dave (Glenda), Glace Bay; sister, Donna (Ken) Cooke, Halifax; sisters-in-law, Helen and Ester, Glace Bay. Chosen family John and Mary "Twink" Taylor, Glace Bay and their children, AJ (Dani), Alberta, Diana and Jason Sheppard (Zoe and Xavier), River Ryan and many loving nieces and nephews who will miss him greatly.
Besides his parents, he was predeceased by his wife, Anna (O'Neill) in 1966, sisters, Beatty McSween and Frances Miller; brothers, Wayne, Clifford and Bernie.
Dad was a kind and gentle man who loved everyone he met and never complained even in failing health. He had a smile for everyone and "Hi Bud" was his tag line.
Dad served in the military as a young man in Germany, then was a meat cutter at the IGA and finished his working life as a bartender at Sergeants Mess in Glace Bay. He was a member of Branch 3 Legion and a lifetime member of the Sergeants Mess. Ray was a former service officer for many years with Branch 40 Legion in No.11 with his best friend Clarence Sampson, of which he was very proud.
Ray was an avid sports fan of the Detroit Red Wings, New England Patriots, Toronto Blue Jays and most recently the Toronto Raptors. He loved to play crib and darts, was a lover of WWE wrestling , western movies and faithfully watched Wheel of Forture and Jeopardy. Our fur babies Tippy and Brandy will miss sharing his meals.
Many thanks to Dr. Carol Critchley, Dr. Dave Brake and the staff of the CBRH Chest Clinic, especially my friend Gerri, the Inspire COPD program ( Tammy and Alison), Vital Aire (Megan), the staff of CBRH ER who were amazing today and everyday, the professional staff of EMS especially Brittany Chiasson who cried with me and for me, to Barb and Ginny for granting my last request for Dad, and lastly my friend Martha McPhee, without whom I am not sure where I would be the last few years.
Cremation has taken place. Visitation will be held Tuesday, July 2, 2019 from 2 to 4 and 7 to 9 p.m. at T.J. Tracey Cremation and Burial Specialists, 370 Reserve St., Glace Bay, NS (902-849-4199). A funeral mass will take place 2 p.m. Wednesday, July 3, 2019 at Holy Cross Church with his nephew Fr. Patrick O' Neill officiating concelebrating with Fr. Norman MacPhee.
No flowers by request. Donations may be made to the Cape Breton Regional Library, Glace Bay, Reserve Mines or Dominion Branch as Dad was an avid reader.
Expression of sympathy may be sent to the family by visiting www.tjtracey.com