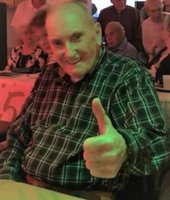 Peter Gillis
Peter Daniel Gillis
Glace Bay
With great sadness, we the family of Peter Daniel Gillis announce his passing peacefully at home on June 8, 2019. Born in Glace Bay on Feb. 12, 1929, he was the son of the late Patrick Gillis and the late Mary (Chapdelaine) Gillis; stepson to the late Laura (Anderson) Gillis with whom he resided for the majority of his life.
Peter worked for many years in construction for Maritime Builders, retiring at the age of 65. He was a jack of all trades and always willing to lend a hand. Peter was a man of few words, with a kind heart and a dry, witty sense of humour. He enjoyed dances and shooting darts but was a keen card player. Some would even call him a shark. Belonging to the Glace Bay Pensioners, Reserve Pensioners and the Gardiner Pensioners Clubs where he played cards a few times a week, Peter was often referred to as one of the Apostles. In his latter years, he also played cards thrice a week with a group of friends who reside in the same building. Peter was an avid hunter and fisherman. With fishing being his favourite pastime, he has fished in most of the fishing holes in Cape Breton and probably a few lakes nobody has yet discovered.
Peter is survived by his older sister Christine Zevolo (late Mike) as well as his younger siblings who consider him to be the father figure in their lives; sisters Martha McLean (late Simon), Patsy Gillis, Bernadette McNeil and brother, John (Marie)Gillis. Peter is also survived by his goddaughter, five nieces, seven nephews, and many grandnieces & grandnephews. He was known and will be fondly remembered as "Uncle Peter" to his family.
Peter is predeceased by his mother, father, stepmother, step-brothers Bud and Ralph along with aunts, uncles, cousins, two nephews, a niece and a niece-in-law,
In accordance with Peter's wishes, cremation has taken place. Visitation will be held Friday June 14, 2019 from 11-2 p.m. with a Celebration of Life to follow at 2:00 p.m. with Fr. Daniel Boudreau officiating all taking place at T.J Tracey Cremation and Burial Specialists, 370 Reserve St., Glace Bay, NS with a reception to follow.
Family flowers only. In lieu of flowers donations can be made to Mass for Shut-Ins, St. Vincent de Paul Society or a charity of choice.
Special thank you to Doug Royal for his friendship to our brother, Peter. The family would also like to express our appreciation to Dr. Oei and Dr. Miller as well as to the Police Officers and Paramedics involved on the day of his passing. Expressions of sympathy may be sent to the family by visiting www.tjtracey.com
If others wonder why I'm missin'…just tell 'em I've GONE FISHIN'