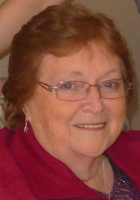 Lorna Alice Thomas
Thomas, Lorna Alice – 81, of Terence Bay, passed away peacefully on June 6, 2019, surrounded by her loving family, after a long, courageous battle with vascular dementia.
She was the daughter of the late George and Laura (Slaunwhite) Drew. She is survived by her loving, devoted husband of 64 years, Terry Thomas; daughters Susan (Tyrone Oickle), Denise (David Logan), Pattie Slaunwhite and Terri Lynn (Sam Fancy); Grandchildren; Sarah, Lindsay, Brittany, Trevor, Taylor and Josh; great-grandchildren Payton, Riley, Evelyn and Wyatt; sister Joan Shirley.
She was predeceased by brothers Regis, George (Tim) and Bernard; sisters Beatrice (Beat), Valerie (Babe) and son-in-law Todd Slaunwhite.
Lorna was quiet and caring and spent all of her life living in Terence Bay. Her greatest pride was her four girls and her grandchildren. She was everyone's seamstress and loved a good game of cards, dice or Rummoli. She loved camping at Sherwood Forest Campground and always looked forward to Sunday drives, that often included a good order of fish & chips.
Our heartfelt thanks and gratitude go to Dr. Harris Crooks (family Doctor), Dr. Moriarity and all staff at Oakwood Terrace Nursing Home and Northwood Homecare for their exceptional compassion and care.
There will be no visitation. A celebration of Life will be held at St. Paul's Anglican Church at 186 Sandy Cove Rd., in Terence Bay on June 14, 2019 at 11:00 am. Rev. Cheryl Rafuse officiating. Private burial at a later date. Reception to follow at the Terence Bay Community Center at 80 Sandy Cove Road, Terence Bay.
In lieu of flowers, donations can be made to the St. Paul's Anglican Church or the Alzheimer Society.
Online condolences may be sent to the family by visiting: www.tjtracey.com.
We will miss her dearly. Heaven has another angel.