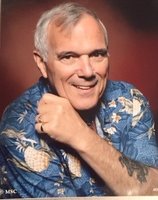 Douglas Bruce Jagger
Jagger, Douglas Bruce MCpl (Ret'd), age 73, of Bedford.
We announce with overwhelming sadness the passing of our husband and father, after his long COURAGEOUS battle with Mylofibrosis: June 01, 2019.
He is survived by his loving wife, Debby (Taylor); his children, Bruce (Bev Swaine), Carolyn (Peter Brown), JuliAnn (Kenny Herritt); brothers, Eric (Susan Pindar), Norm (Jan Peaire); sister-in-law, Gayle (Dorey) Jagger; seven grandchildren; seven great grandchildren; several nieces, nephews, and his extended new "Special Family" with his wife Debby and endless friends.
Doug was born in Hamilton, Ont, to the late Bruce and Helen (Yates) Jagger. He was predeceased by his wife Karen (Pindar) of 49 years and brother Larry.
Doug spent 25 years with the Royal Canadian Navy as a Clearance Diver, and a second career of 20 plus years as a Financial Planner where he met several lifelong friends. His love for life was spent with his family and friends and travel and with his new joy his bike.
In accordance with Doug's wishes a Celebration of Life will take place Saturday, June 08, 2019 at 11:00 a.m. in Hope United Church, 3055 Connaught Ave, Halifax, N.S., with Reception to follow.
For those wishing, donations to Light the Night would be appreciated.
Bravo Zulu
"May You Have Fair Winds and Following Sea"