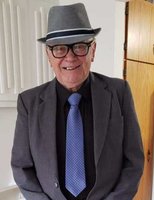 Ivan Ellsworth
Ivan Ellsworth age 73, of Glace Bay passed away May 26, 2019 at the Cape Breton Regional Hospital.
Born in Glace Bay, NS he was the son of Walter Ellsworth and Christine 'Tuttie' (McIntyre) Ellsworth.
Ivan grew up playing baseball with a love and devotion for the game and to the NY Yankees. As a teen, he hung out at the pool hall on Commercial Street, which introduced him to snooker-something enjoyed immensely up until his passing. He graduated from St Francis Xavier University in 1969 and was a school teacher for 35 years in Glace Bay. His students left a lasting impression on him, he was proud of everyone he taught. Ivan loved the summer time. Especially days at the beach with his family, catching rays, and napping in the sun. He was well known for his humor, and his class clown vibe-that often got many laughs at the coffee shop with the boys. Every day, he looked forward to his visits with Marty, Cliff and Neil. He was an avid reader, and an expert at crossword puzzles-with clocked times to back up the claim. A lifelong animal lover, he regularly made donations to the FAACS.
Ivan is survived by his daughters, Michelle Ellsworth- Power (Keith) and Natasha Ellsworth (Vince Maclean). He is the proud Papa to Madison and Payton- who will always remember the fun games, and goodnight calls. Ivan will be sadly missed by Stephanie, Lisa and Mark-he will always be Uncle Daddy to them. Ivan is also survived by his partner, Debbie Spencer, whom together created many special memories during their time.
He is predeceased by his wife, Linda Ellsworth of 40 years. With a strong commitment to one another, they shared an incredible love, while raising their girls. He will be greatly missed by his best fur friend, Lucy Anne. Ivan is also predeceased by parents, Walter and Christina; brother, Mickey and sister, Sylvia.
Visitation will be held May 31st from 6-8 p.m. at T.J. Tracey Funeral Home, 370 Reserve St., Glace Bay.
A memorial service will be held June 1st at 11 a.m. at T.J. Tracey with interment to follow same day at Immaculate Conception cemetery.
Donations in Ivan's memory can be made to the Feral & Abandoned Cat Society.
"May God bless and keep you always, may your wishes all come true, may you always do for others and let others do for you, may you build a ladder to the stars, and climb on every rung, may you stay, forever young"